Groundworks & Light Civil
We offer Groundworks & Light Civil Works services as an additional site service. We are fully equipped & experienced in carrying out site preparation, foundations, concrete works, ground & land drainage, septic tank and sewage, retaining structures and general light civil works
Concrete Works
We undertake all concrete work requirements for above & below ground for any size project large or small
Earth Works
From site preparation to retaining structures, all aspects of general light civil works can be facilitated
Design & Layout
We can work to your project plans or offer advice on all aspects of site preparation, layout & material finishes
Fencing & Landscaping
We offer Fencing & Landscaping services as an additional site service. We are self-equipped with own plant & machinery, fully insured, certified & compliant, with a qualified team for all fencing types & hard & soft landscaping
Fencing
We supply & erect fencing for decorative, privacy screening, security, managing safety & marking a site's boundaries
Landscaping
Offering a complete hard & soft landscape service from turf laying to natural stone paving & all site conditions
Design & Layout
We can advise on all aspects of site design & layout, material finishes including factors such as safe access
REGISTERED ELECTRICAL CONTRACTOR
OCH Facilities Ltd are Registered Electrical Contractors and adhere to the Safe Electric Rules of Registration with regard to matters such as training, competence, inspection and audit, test equipment, insurance and completion certificates.
Safe Electric is responsible for the regulation of the activities of electrical contractors in the Republic of Ireland with respect to safety. Safe Electric holds a register of all Registered Electrical Contractors (RECs), and ensures through audits and inspections that RECs are operating to the relevant national standards and technical rules and ensures that any REC that appears on the register has the appropriate insurance cover in place.
The Commission for Regulation of Utilities has appointed the Register of Electrical Contractors of Ireland (RECI) to operate the Safe Electric Scheme on behalf of the CRU.
OTHER SERVICES
Along with our core Electrical Services we also offer additional site services covering Groundworks & Light Civil Works and Fencing & Landscaping Services in order to provide the broadest range of facilities services to our clients
Grass laying & soft landscaping

Hard landscaping & patio areas
Rack, tray, trunking installations

PVC & SWA cable installations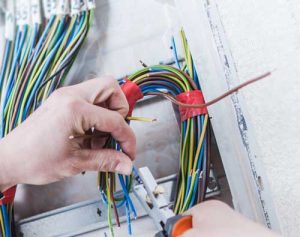 Do you need help with electrical maintenance? Fill out this form to get in touch.
085-767 4547
james@ochfacilities.ie
087-690 5232
kieran@ochfacilities.ie
085-767 4547
james@ochfacilities.ie
087-690 5232
kieran@ochfacilities.ie