ELECTRICAL SERVICES
For the installation, commissioning and maintenance of electrical systems and equipment and a wide range of electrical services, we provide the technical expertise and professional service required for effective and cost-efficient project completion on time and within budget.
Maintenance
Preventative maintenance minimising systems failure risk & reactive maintenance & fault finding expertise
Installation & Contracting
Our experienced team ensures the smooth operation of every project completed on time & within budget
Testing & Certification
Periodic inspection, testing & certification is essential for safety & ensuring regulations compliance
Cable Networking
Installation of structural cable systems including Data Network Cabling with Cat5e, Cat6, Cat6A & fibre optic
Lighting Systems
LED lighting for a wide range of applications & all emergency lighting systems to comply with latest standards
Energy Saving
We provide cost effective advice for upgrading to energy efficiency systems to provide long term savings
PAT Testing
Portable appliance testing (PAT) is carried out to ensure compliance for employee & customer safety
UPS Systems
An uninterruptible power supply that provides emergency power to a load when the input power source fails
Facilities Management
We can offer additional site services & tailor our facilities management services to your specific needs
REGISTERED ELECTRICAL CONTRACTOR
OCH Facilities Ltd are Registered Electrical Contractors and adhere to the Safe Electric Rules of Registration with regard to matters such as training, competence, inspection and audit, test equipment, insurance and completion certificates.
Safe Electric is responsible for the regulation of the activities of electrical contractors in the Republic of Ireland with respect to safety. Safe Electric holds a register of all Registered Electrical Contractors (RECs), and ensures through audits and inspections that RECs are operating to the relevant national standards and technical rules and ensures that any REC that appears on the register has the appropriate insurance cover in place.
The Commission for Regulation of Utilities has appointed the Register of Electrical Contractors of Ireland (RECI) to operate the Safe Electric Scheme on behalf of the CRU.
OTHER SERVICES
Along with our core Electrical Services we also offer additional site services covering Groundworks & Light Civil Works and Fencing & Landscaping Services in order to provide the broadest range of facilities services to our clients
Drainage installation & repair
Grass laying & soft landscaping

Hard landscaping & patio areas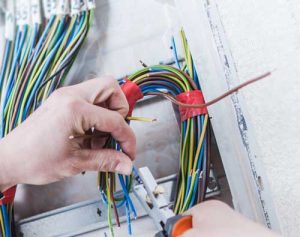 Do you need help with electrical maintenance? Fill out this form to get in touch.
085-767 4547
james@ochfacilities.ie
087-690 5232
kieran@ochfacilities.ie
085-767 4547
james@ochfacilities.ie
087-690 5232
kieran@ochfacilities.ie